Find help to build your family tree using The Family History Guide and create a timeline in TWILE
Just sharing something I am so excited about! One of the family history activities listed on the Youth Page of The Family History Guide Family Activities section (Documenting the Past) is to create a timeline using Twile. I am having so much fun with Twile – 

an interactive, cloud-based service in which you can create a timeline of your family's past, present, and future. Made up of photos and milestones (such as births, marriages, deaths, and any other event you would like to add), it tells the story of your family from your earliest known ancestor right through to today.
One idea is to go to The Family History Guide to make sure your family tree is ready to be imported. See steps for the following:  FamilySearch,   MyHeritage, Findmypast, or  Ancestry.  Next, you can import a GEDCOM file (instructions here). See how Twile has integrated with FamilySearch to make importing a "one button" snap!

Add more recent events from your own life, and then invite your family to explore and contribute.  There is no end to the fun of personalizing your timeline! 
Twile, based in Sheffield and Manchester UK, was started in 2013 by Paul Brooks and Kelly Marsden. Both with young families, they were looking for a way to give their children a record of their early years and a knowledge of their ancestors. While the website is aimed primarily at family historians, it's also designed to encourage the rest of the family to add their own, more recent content.
I have looked for something like it for so long (easier to view and add to than some other timelines – and the ability to add world and local events along with pictures of pretty much anything or anyone).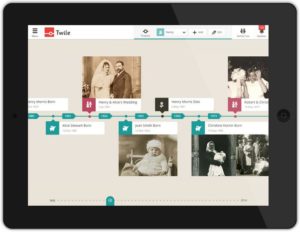 It is now free!
Twile won the People's Choice award in the 2016 Innovator Showdown, at Rootstech and Third Place in the Judges Choice Award ($6,000 cash, $10,000 in-kind). Twile, and joined FindMyPast as a partner soon after the contest. FindMyPast states that it is committed to enhancing family history stories not just through new records but also through new technologies. "Our aim is to make family history as easy and as rewarding as possible." In my book, they are doing just that! TWILE took only minutes to create my timeline!
Twile now has the option of adding PDF files! The latest updates are featured here. See the many timelines here that you can integrate with your family timeline (like the ones featured in this picture) for historical background to your story.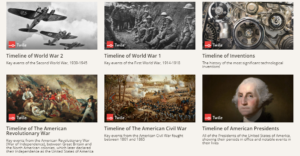 With Twile, the fun never stops!