The Family History Fun Basket – it's ready when you are!
Circle up the family for a fun, easy to create family history game that will have you all laughing, learning, and making memories at a moment's notice! It might be a small, last minute family get-together, or a planned evening with loads of cousins ready to party – whatever the occasion, you will have it covered! You will not only have the situation under control, your family will be having a blast with family history – and the end-result may be even better than you could have imagined! You will find this magical solution to the question, "what should we do?" on the Family Activities Page of The Family History Guide in the "Anytime Activities and Games" category. Check it out!
F1-01: The Family History Fun Basket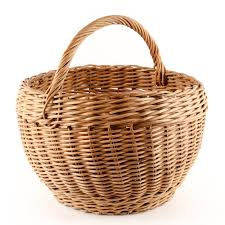 Steps
1. Find a basket, jar, or hat to use.
2. Look for "no-prep" activities and games…and select the ones that your family will enjoy.
3. Write down the activities on slips of paper and put them in the container.
4. When it's time for a family history activity, have a family member draw an activity slip for the family to do.
5. Have the container ready for use at any given time and enjoy spontaneous or planned family history time.
Easy enough, right? You can be ready with a basket full of family history fun for the next impromptu or planned get-together in a matter of minutes! Enjoy!
The Family History Fun Basket
Select activities you would like to do, type or write them on a list, cut it into strips and place them in a basket.
Take turns drawing out one at a time, and follow the instructions.
Use these ideas or write your own. Mix and match! Play for any amount of time. Have fun!
App Ideas (FamilySearch)
All The Stories – open in FS app gallery (home page at end), follow instructions, see how many stories are on your tree (You can click the stories on the left to start reading them, or click the "synchronize" button to re-sync with FamilySearch) Share a story with the group (and share how you are related to that person – it's on the story page), You can use the FS Audio App – go to FS Memories, Gallery, click on mic and record. You can attach the recording to a person who is on your FamilySearch tree!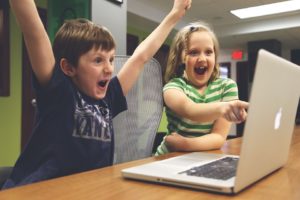 Geneopardy – open in the FamilySearch app gallery 9found at the bottom of your homepage), follow instructions, divide into teams, play the game!
Activity Ideas  (without Internet)
Play "Ancestor Basket" instead of "Fruit Basket" by assigning everyone in the group the name of an ancestor (use three or four names then repeat). Have enough places for everyone to sit except one person. The person in the middle calls out one of the ancestor's names and everyone with that name changes places while he tries to get a chair. Whoever is left without a place to sit is now the "person in the middle." You can add the option to tell a story or memory about the ancestor whose name you were given for the game when you are in the middle.
If you could ask a dead ancestor a question, what would it be and why?
 Ask all who are named for an ancestor to share the name and something about that ancestor.
Ask the oldest person in the room to do charades about a way life has become easier in our modern world.
Find something in the house from your family's history and tell the group about it.
Share your favorite family food your grandmother cooks (or cooked)?
Tell an ancestor story or ask someone else in your family or group to share one.
Select an ancestor and have the group guess who you are describing (without giving the name). Can anyone guess in "one" clue? Two? The winner is next (repeat).
Alphabet game – start with the letter "A" and see if you can go through the alphabet with each person in the group saying something about your family history beginning with that letter.
Have each member of the group (or select a few members) share a character trait of an ancestor they hope to emulate.
Do charades about a favorite family tradition
Share a favorite family memory, and ask two more people to do the same.
As a group, figure out the number of posterity of an ancestor in your family (how many generations can you do this for?)
Lead group in favorite song or poem of an ancestor.
Have everyone (or some group members) do the "Human Knot" – stand in a circle facing "in" with eyes closed, put hands out and hold each other's hands – unravel the "knot" without letting go of each other's hands. How is this like researching family history?
Have everyone share one thing they would put in a time capsule (to be opened in ten years) and why they would select it.
What do you hope you will be remembered for?
For small children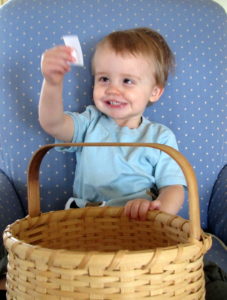 – write simple activities on several slips of paper
(and keep separately in the basket) such as
"give your mom or dad a hug!"