Make Family History with Home Videos – how to create, save and share
In a blog post entitled Creating Traditions That Make Family Memories Cora Foley writes that "Traditions are a set of customs or rituals passed down from one generation to the next. They help shape a family's legacy, while also instilling family values in its newest members, whether they be a baby or a spouse. Family traditions can also help solidify the bond between all family members, no matter the age or distance between them. If you document these family times with photos, videos, or written stories, the memories can be shared for generations, ensuring that your family legacy is always protected." The Family History Guide Family Activities Page  Making Family History section (F3-08: Family History Videos) lists this link to an article by Lisa Louise Cooke, who explains that "The truth is that the non-genealogists in your family aren't captivated by the same things you may be." Amen to that!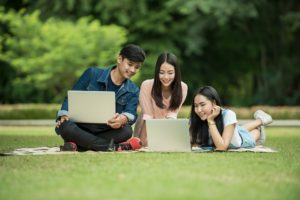 The article includes six video tutorials including help for getting started, editing, and producing videos. These links from her article may also be helpful: How to Create Captivating Family History Videos and How to Share Family History with the Non-Genealogists in Your Family. It just may be worth the time and effort to create videos about your family that kids and grandkids, and everyone else will want to watch – again and again!  Those kids and grandkids are often the ones who can produce family videos if they have a bit of guidance and a few tutorials. What a great family history project!
The Family history Guide lists a link for help in creating family traditions videos (F3-04: Family Tradition—Learn how to make a documentary about a family tradition) from the Make Family History Website. The description includes the suggestion to film a daily routine, an event, or person (Acitivity #2 Make Home Movies), and the counsel to not just film the actual event, but to "film the set up, take down, and everything that happens in between. For example, if your family makes Christmas cookies every year film them making the cookies, decorating the cookies, and eating the cookies. This way you capture the little but important moments that happen along the way." These videos can be simple and imperfect (no need to worry about hiring a videographer) as in this example from their site:
If you would like to share your videos on You Tube, see  How to Set-up, film, edit, and publish a video on You Tube, or go here to learn how to post a video to Vimeo. Remember that home movies become more loved and valuable through the years. Set aside time to view yours together – make new memories while remembering older ones! If you want to learn more about making videos, see 10 Simple Tricks for Making Home Movies Look Professional. 
Here are a few more fun family videos from our traditions collection. Enjoy! Please share your family traditions videos with us!