Results of the Worldwide Indexing Event
Read all about the Results of the WORLDWIDE INDEXING EVENT and stand in awe with us that over seven million new family history records will now be available on FamilySearch.org thanks to volunteers around the world! Check out additional information on the FamilySearch blog,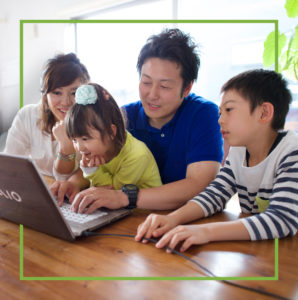 and read about how "throughout the event, nearly 80,000 people worked to transcribe historical documents to make them searchable online, including over 9,000 first-time FamilySearch indexing volunteers. Participants represented 116 countries, 10 languages, and all ages, making this a true worldwide event. The following number of volunteers joined the event: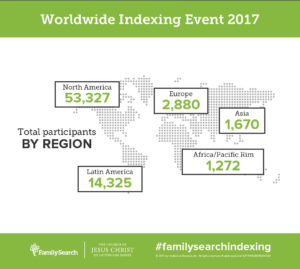 7,275,546
Total number of records indexed 
These people selflessly dedicated their time over a three-day period to make essential genealogy records available to the public.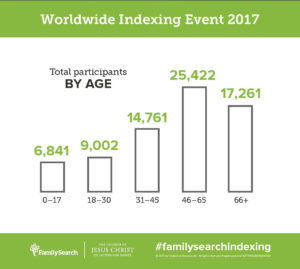 With their help, countless people worldwide will be able to discover their ancestors."
If you would like to join in the fun and don't know where to learn the ropes, the Family history Guide has what you are looking for in Project 5 in the drop-down menu under FamilySearch (FS).
The Activites Section also has some fun ideas for indexing:
From the Youth Page:
From the Singles Page
S8-04: Indexing Tournament of Champions—
*Steps
S8-05: Indexing Parties—
Publicize and hold indexing parties in different apartments on Sunday evenings. Pizza or other snacks could be included.
See this blog post for ideas.
See Project-5 Goal 7 in the FamilySearch (FS) section of the Family History Guide for links to additional indexing events, and Project 5 Goal 5 for ideas to collaborate with others on indexing projects.
Thanks again for all the indexing that has been done and for all that will be accomplished in the future. What a fun way to serve!