Ideas and Help for Using Social Media – "The New Language of Family History"
Social media has been referred to as "the new language of family history," and The Family History Guide is here to help anyone learn to speak it! In addition to suggestions found in Social Media Activities for Youth, Families, and Singles, more tools for learning and using social media for family history are listed in Project 7, Goal 3 (FamilySearch) or Project 6 Goal 3 for Ancestry, MyHeritage, or Findmypast. For many people in our modern world, social media is the preferred platform for sharing stories. In an article entitled,  Social Media: Real-time Family History in the First Person, Steven and Jill Decker explain that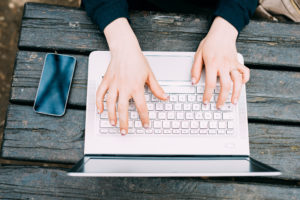 "Never has so much first-person family history been contributed by so many – and most do not even realize they are doing it. Facebook, Instagram, Twitter, and other social media outlets are forces that can be utilized to document and share a family's history in the here and now. They are modern methods to journal our activities and, unlike handwritten diaries and journals, they are accessible to multiple "friends" or "followers" at the same time. Often the history is accompanied by photographs." With social media available in so many forms, blogger Ellen Bahr asks the question, "Shouldn't we be taking advantage of it?" She discusses the ways we can tap into social media resources in her article  hashtags, Tweets, and Blogs: The New Language of Family History, beginning with an introduction describing how family history technology has advanced so dramatically in the last few decades:
"In the comfort of our own homes we can now research our ancestors' names, expand our family trees, search through archives of photos, explore countless genealogical websites, do indexing, download digital images, upload stories of our ancestors, and share instantly what we find with family members who live thousands of miles away, to name just a few. We can even "tweet" about it to our friends, blog about it, or post our finds on Facebook and Instagram." She also advises that if you don't know how to use it, you just need to "ask your children, your grandchildren, or the teenager next door to tell you. Chances are they'll be happy to bring you up to speed and teach you how to use this new technology."
I know that my grandchildren are often my "go-to" helpers when it comes to using social media! Ellen also shares some helpful ideas from Hannah Z. Allan for sharing our stories on social media:
Facebook
Create a family page or group
Post old family photos to share with or be identified by family members 
Create family reunions and events
Connect with genealogical societies, organizations, and groups
Find and connect with distant cousins or family members in foreign countries
YouTube
Create a family history channel
Upload and share family videos or photo montages
Watch how-to videos about family history research
Watch videos about places your ancestors lived or events they went through
Instagram
Create a family history hashtag or username
Use keywords or ancestors' names for hashtags
Share hashtags with other family members so everyone can see their photo shares
Post photos of ancestors
Post photos of current family history activities
Twitter
Create a family history hashtag or username and share with family members
Share posts about current family history activities and needs
Connect with family history organizations and libraries
Steven and Jill Decker caution that, "social media is not without its issues when it comes to sharing family history. Not every social media claim is accurate: users may use profile pictures of heroes or loved ones rather than themselves or, for whatever reason, may say they are from a place to which they have never been. That said, imagine how many events and special occasions would pass unnoticed by large numbers of family and friends without social posts. Social media can be a great way to share family memories and instill a real sense of belonging among today's spread-out families." I have experienced the benefits of making family connections of which the Deckers write. As of today's count, I have seventeen FaceBook groups for family history, with members from varied places and circumstances. I have discovered new cousins, seen photos I didn't even know existed and have shared stories and information that my relatives might never have seen otherwise. It is so exciting and fun! I invite you to take advantage of social media in your family history pursuits. Here are some ideas and resources from the Deckers that can help you create your own social media strategy for family history:
Enjoy!  I would love to hear about your ideas and successes using social media. Please comment – thank you!