My husband, Jim, and I have spent an incredible week in Utah.  This is my first time back to Utah since I joined the Family History Guide staff as the Social Media Coordinator.  Last Saturday I went to the Springville Family History Center's Springville Family History Fair.  It was a full day of wonderful speakers.
First I listened to Robert Kehrer, Senior Project Manager for FamilySearch.  He is so knowledgeable about all things concerning FamilySearch.  He spoke about what is already there and what is coming in the future and it was fascinating. Hearing his talks the first two hours was a real bonus.
My primary purpose in attending that conference was to hear from James Tanner, the Chairman of the Board for The Family History Guide.  He and his wife Ann, also a Family History Guide Board Member, were there and he gave a wonderful introduction to many who were learning about The Family History Guide for the first time.  I absolutely love to see people's first reactions to this 'good news' website.  The first reaction is astonishment and excitement as the presentation unfolds. The last comment is usually, "Why didn't I know about this before?"  If you love the Family History Guide as we do, please share it with others.
One thing James said is that if he had had The Family History Guide years ago it would have taken 15 years off the time it took him to learn the information he needed to be effective as a genealogist and family historian.  That was impressive for sure!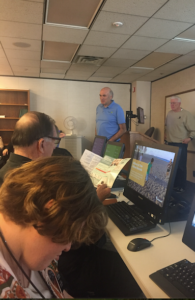 The second thing we came to Utah for was to attend our weekly management meeting that I usually attend via conference calling. It was a sheer delight to be here with this wonderful and talented group of people.  This one hour alone was worth the 12 hour drive to get here.